A place to appreciate the power of diverse communities in a globally connected world


Closed for Summer Recess
Academic Year Hours, October-May:
11 a.m. to 4 p.m., Tuesday through Thursday; by advance appointment Friday
Location:
Fine Arts Building, Room 203
Admission:
Free

Past Exhibitions
In the Main Gallery:
Textures of Remembrance: Vietnamese Artists and Writers Reflect on the Vietnamese Diaspora | February 25-May 4, 2023
Textures of Remembrance: Vietnamese Artists and Writers Reflect on the Vietnamese Diaspora explores stories of personal struggles and memories demonstrating the effects of the Vietnam war on identity, sense of family and community, and representation, featuring works by emerging writers and artists.
Textures of Remembrance is a traveling exhibit created in partnership by the Diasporic Vietnamese Artists Network, Exhibit Envoy, and Oakland Asian Cultural Center. This project was made possible with support from California Humanities, a non-profit partner of the National Endowment for the Humanities, and California Arts Council, a state agency with a mission to strengthen arts, culture, and creative expression as the tools to cultivate a better California for all. Visit calhum.org and arts.ca.gov
This exhibition is co-sponsored by DVAN@SFSU and Asian American Studies, and supported by SF State's Instructionally Related Activities Fund, University Corporation's Kaufmann Museum Studies Lab Fund, and the School of Art Annual Barry Fund. Public programs are supported by the Educational and Interfaith Programs Fund from SF State's Division of Equity and Community Inclusion.
In the Global Lab:
Other Worlds: The Art of Storytelling | February 25-March 16, 2023
Other Worlds: The Art of Storytelling immerses visitors in an adventure following the Hero's Journey. Curated by Russell Nauman, MA Candidate in Museum Studies.
A Green State | April 18-May 4, 2023
A Green State highlights SF State's unique microclimates and the positive impacts sustainably managed landscapes have upon visitor experiences and personal well-being. Curated by Marissa DaCosta, MA Candidate in Museum Studies.
Student-developed exhibitions in the Global Lab are supported by the School of Art's Annual Barry Fund and partially supported by the University Corporation's Kaufmann Museum Studies Lab Fund.
Our Mission
We are a responsible steward of cultural heritage; a place of scholarship, community and engagement; and a space in which to appreciate the power of diverse communities in a globally-connected world. We create experiences that foster life-long learning, collaboration with and among diverse communities, and that encourage reflection about global society and our common humanity.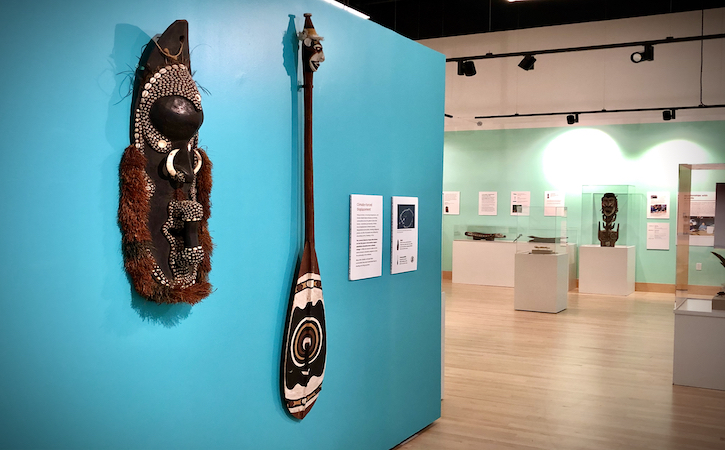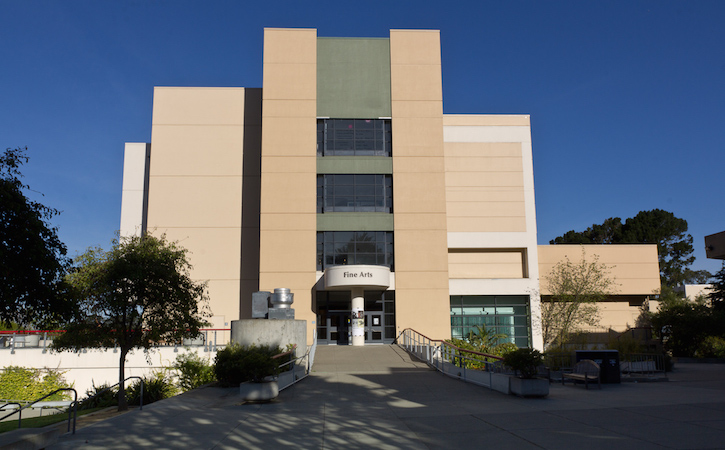 Background
In 2014, the Museum Studies Program reorganized and closed its former gallery in the Humanities Building to establish a new campus museum. Opened in 2018 in its new Fine Arts location, the Global Museum is an interdisciplinary research center in the College of Liberal and Creative Arts (LCA) affiliated with the Museum Studies Program. The museum is one of several public spaces in Fine Arts, including the School of Art's Fine Arts Gallery and Martin Wong Undergraduate Gallery, Design and Industry's DesignSpace and Cinema's Coppola Theater.
Stewarding an expansive University collection of cultural heritage objects, we serve as a lab for Museum Studies, an academic resource for the campus, and a community space for the greater Bay area. Professional staff and faculty affiliates guide programming that is entirely student operated. Facilities include a 2,000 square foot public gallery with rotating exhibitions, state-of-the-art collections preservation facilities and a teaching classroom and digital lab.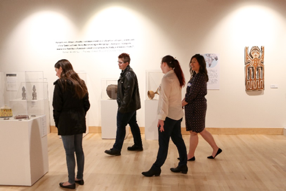 Our Vision
We are a vibrant place of education, an emerging center of community, and a steward of the world's irreplaceable cultural collections. We are a place of learning that reflects and models highly ethical, community- and educationally-focused museum practice; that supports active visitor engagement with long-standing and newly emerging challenges; and that fosters outward-looking community involvement. We believe that museums, in addition to focusing on the past, can play a transformative, future-oriented role in our globally-connected society.
Programming for All
We steward an outstanding cultural heritage collection that inspires community oriented exhibitions and programs reflecting the diversity of our campus community. Our work models mission and vision tenets of community, culture and connections through our partnerships with other LCA centers and campus departments. This lends a "global" and interdisciplinary perspective to our programs, and allows partners and students alike to apply their academic studies in innovative ways.
Our campus partners include the Museum Studies Student Association, Paul K. Longmore Institute on Disability, DocFilm Institute, Center for Iranian Diaspora Studies, Poetry Center, Fine Arts Gallery, Sutro Library, Institute for Civic and Community Engagement, Art and Art History, Anthropology, History, Ethnic Studies, Student Outreach Services, ASI Gallery, ASI Project Connect, Graduate Studies, Academic Technology, Advising Resource Center and more!
Exhibition and public programs are supported in part by SF State's Instructionally Related Activities Fund, and SF State University Corporation's Kaufmann Museum Studies Lab Fund, the Global Museum Fund, and the School of Art Barry Annual Fund. Thank you for your support!
Professional Affiliations
Global Museum | Museum Studies holds active memberships with the following professional organizations: