Introduction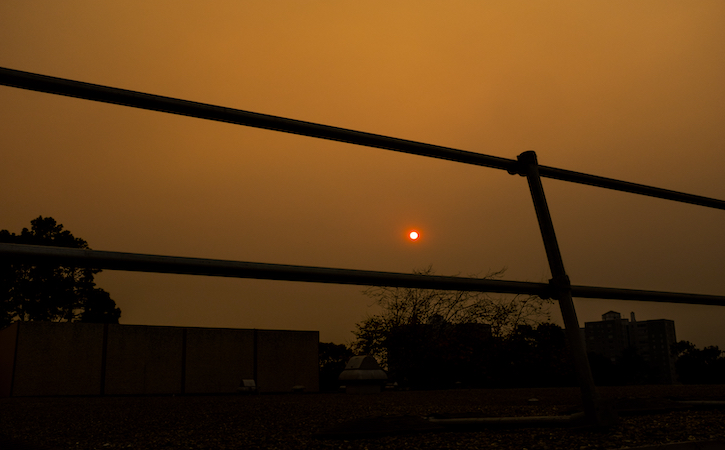 The poisoning of hundreds of children and adults in Flint, Michigan. An 85-mile long stretch next to the Mississippi River in Louisiana known as "Cancer Alley." Asthma in one of five children in the Bronx, New York. What do these national examples of environmental injustice have in common? Each community is home to a high population of People of Color.
Historically and continually, Black, Indigenous, and People of Color communities have borne the brunt of pollution in the United States.

Inspired by the Black Lives Matter movement, Clearly Polluted: The Fight for Environmental Justice in the Bay Area investigates environmental racism and its ongoing, disproportionate impact on Black, Indigenous, and people of color, or BIPOC, communities in the San Francisco Bay Area. Co-curated with community advisors, local activists and advocates who share their lived experiences and ongoing efforts for climate and social justice, this online exhibit is organized into three chapters spotlighting three recurring themes: Displacement, Environmental Impacts, and Resilience. Listen to oral history interviews, browse through photographs and maps, and deep dive into additional resources for historical and contemporary actions to combat environmental racism.
The time is now to examine the ways the Black Lives Matter movement and environmentalism are linked.
- Leah Thomas
Community Voices
Community participants include a Civil Rights icon and contemporary of Dr. Martin Luther King, Jr., a documentary filmmaker, grassroots advocates, and educators. Student developers enrolled in the Museum Exhibition Development course, Museum Studies 730, conducted the interviews over Zoom between February-May 2021.
Chapter 1: Displacement
The San Francisco Bay area has a long history of displacing Black and brown people from their historical neighborhood communities to undesirable areas. How did this displacement happen?
Rev. Amos Brown, San Francisco
The Reverend Dr. Amos Brown is senior pastor at San Francisco's storied Third Baptist Church. Established in 1852, Third Baptist is the oldest African American church in the United States. Rev. Brown discusses African American history in San Francisco and nationally, and how faith-based involvement can overcome ongoing barriers put up by white privilege.
LaDonna Williams, Vallejo
LaDonna Williams is the Programs Director of All Positives Possible, a grassroots community-based organization working to obtain environmental justice for historically disadvantaged and long term highest risk exposure populations. In this video, Ms. Williams discusses her lived experiences on land polluted by industry and health impacts upon her family and neighbors.
Doug Harris, Berkeley
Doug Harris is a media producer and prolific filmmaker based in Berkeley with deep ties to Richmond. His work chronicles and preserves untold histories of pioneering African Americans. In this video, Mr. Harris not only describes his path towards filmmaking, but the racist social and political catalysts in local history that continue to impact Black and Brown communities.
Chapter 2: Environmental Impacts
Decades of systemic racism and lack of climate action have led to communities of color being disproportionately affected at higher rates by industrial and toxic waste pollution in their communities. And a healthy environment doesn't stop at clean air and water. Proper waste disposal and clean streets are crucial to everyone's well-being.
Sha'Nice Robinson, Richmond
Ms. Robinson, ASI Senior Director of Culture and Social Justice, SF State, and Doctoral student in Educational Leadership, shares her lived experiences and family history as a resident of Richmond.
Bradley Angel, San Francisco
Bradley Angel, Executive Director of Greenaction for Health and Environmental Justice, shares some of the environmental impacts government and industry have on BIPOC communities, and Greenaction's community efforts for health and environmental, socioeconomic, racial and climate justice.
Tachelle Herron-Lane, San Francisco
Ms. Herron-Lane is Assistant Director of 100% College Prep, a college prep program in the Bayview Hunters-Point (BVHP) community, shares environmental impacts of pollution in BVHP from the closures of the Naval Shipyard and PG&E Power Plant.
Chapter 3: Resilience
BIPOC communities take action to improve their environment, health, and well-being.
John Austin, San Francisco
John Austin, formerly with The Garden Project, shares how they work to empower at-risk at risk young adults through environmentally based job training and life skills programming, while also transforming the urban environment.
Ella Bastone, San Francisco
Ella Bastone, Case Manager with SF State's Guardian Scholars Program, discusses her role in advocating for at-risk youth transitioning to college life, and with the right support, can help them overcome physical barriers and pursue their dreams and education goals.
Tiffany Lam, San Francisco
Tiffany Lam, Case Manager with SF State's Guardian Scholars Program, discusses her role in supporting at-risk youth on the ground level and ensuring their access to basic needs to help them succeed in college.
Have you encountered environmental injustices in your community? What actions can you take to combat them?

Deep Dives
The Intersectional History of Environmentalism
Produced by the climate justice group, Intersectional Environmentalist, this video highlights the contributions by Black, Indigenous, and People of Color communities have made to the environmental movement. Intersectional Environmentalist works to bring social justice to the forefront of conversations within environmental spaces.
What It's Like To Get Kicked Out of Your Neighborhood
Kai, a former resident of the Mission District, speaks on gentricification within the community and how people are being displaced by the Ellis Act, which evicted his family twice. Produced by BuzzFeed.
Acknowledgements
We acknowledge that we are located on the lands of the Ramaytush Ohlone people, the traditional stewards of the land on which the Global Museum resides. We show our respect for and acknowledge the enduring relationship that exists between the Ramaytush Ohlone and their land, and thank them for making space in their territories for us to share our knowledge, teaching, and learning.
Clearly Polluted is co-created with community participants, advisors and content experts, and student developers getting first-hand experience in community-based curation and exhibition design. Thank you for your stories, your guidance, and your innovation in shaping this project.
Community Participants
Bradley Angel, John Austin, Ella Bastone, Reverend Dr. Amos Brown, Doug Harris, Tachelle Herron-Lane, Tiffany Lam, Sha'Nice Robinson, LaDonna Williams
Community Advisors
Nancy Arms Simon, Demetri Broxton, Maya Colbert, Jaime Lowe, Robert Melton
SF State Content Experts
Paul K. Longmore Institute on Disability; Prof. Aritree Samanta, Environmental Studies
Student Developers and Volunteers
Sophie Abarca, Rachel Alschuler, Joe Angiulo, Rachael Bermudes, Hal Boman, Michael Brown, Lexi Brown, Marissa DaCosta, Maria Egoavil, Victor Feyling, Emma Gunst, Lindsey Hanson, Cay Hilbert, Melissa Hyson, Anna Kelly, Eva Laflamme, Alexandria Lowery, Emma Moore, Leslie Mosqueda, Ana Navarro, Agnes Palotas, Kathryn Papoulias, Tiana Raihn, Alyssa Robyn, Amanda Robyn, Frank Sicignano, George Tinoco, Rose Tocchini, Rebecca Young.
Special Thanks to all the students in the Fall 2022 classes M S 681 Preparation for Practicum, M S 700 First Year Seminar, and M S 720 Curatorship for their hard work prototyping and installing this exhibit in the Global Museum space!
Project Coordination
Christine Fogarty, Edward Luby, Fran Osborne
Dedication
For our colleague and friend, Paige Laduzinsky
Clearly Polluted is made possible in part by SF State's Instructionally Related Activities Fund, and SF State University Corporation's Kaufmann Museum Studies Lab Fund and the Barry Fund. Public programs are supported by a grant from the Educational and Interfaith Programs Fund.
Thank you for your support!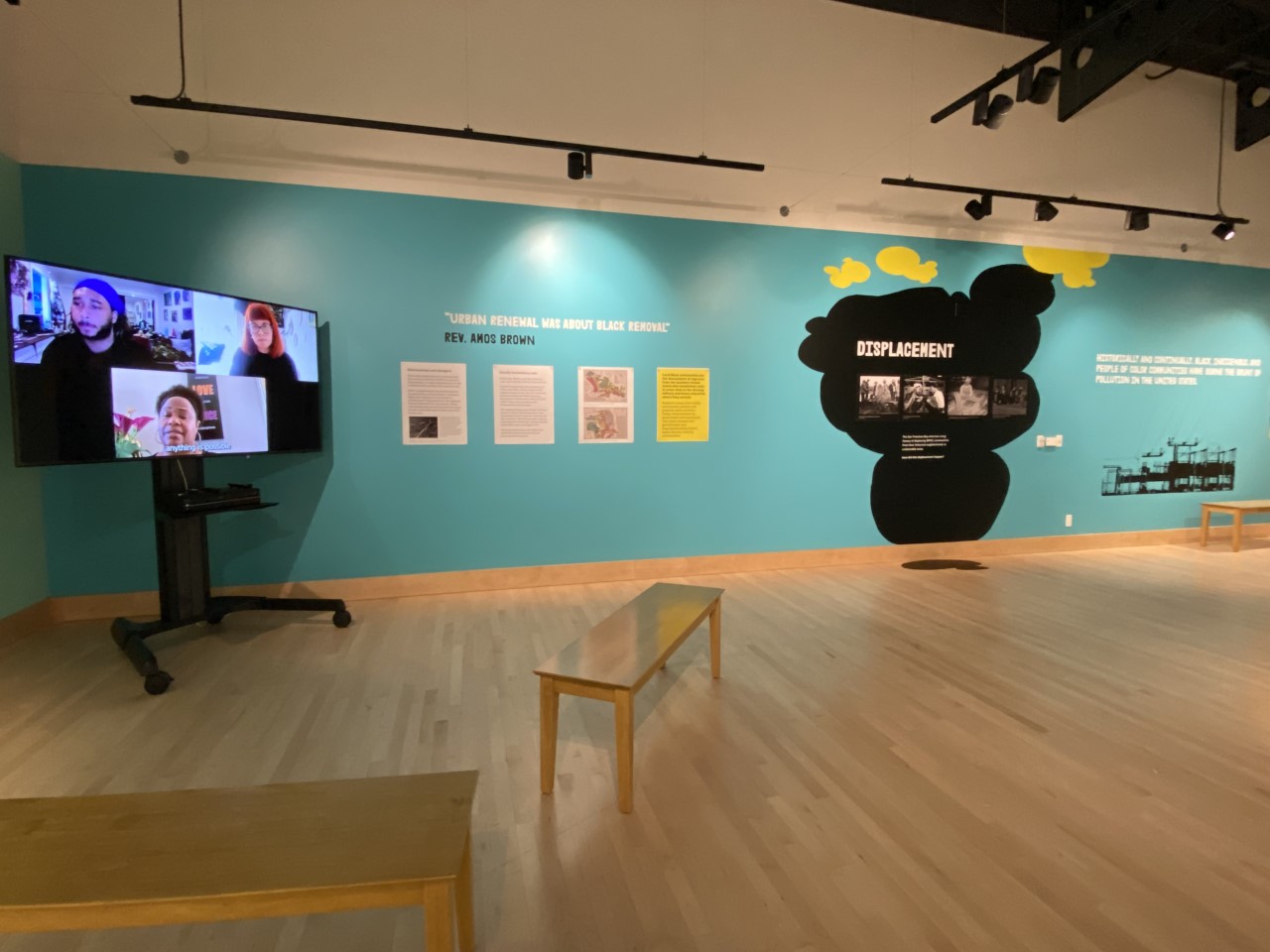 In-Person Exhibit at the Global Museum, October 29-December 8, 2022
Podcast: Activism, Art and Environmental Justice
In a special livestreamed event on December 7, 2022, the Climate One team hosted a discussion with some of the people behind Clearly Polluted, and artists whose work was inspired or affected by the climate crisis.
Listen to the podcast on Climate One's website.