Clearly Polluted: Displacement
The San Francisco Bay area has a long history of displacing BIPOC communities from their historical neighborhoods to undesirable areas. How did this displacement happen?
Traditionally Black communities in San Francisco, Oakland, Richmond and East Palo Alto are the descendants of migrants from the Southern United States who established roots in areas close to the thriving military and automobile industries where they worked. As those industries declined over time, so did the bustling neighborhoods they created. Research shows that racially exclusionary policies and practices perpetuated by those with political and financial power, disinvestment by government and businesses, and urban renewal and gentrification disproportionately impact lower-income, minority communities. Watch NBC Bay Area's segment on the legacy of housing discrimination to learn how these factors have contributed to Black displacement.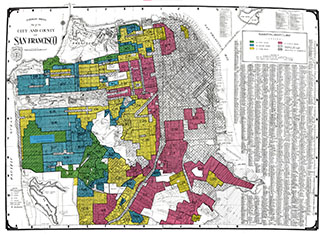 Racially Exclusionary Laws
Historically, Blacks, and other people of color, were limited in where they could live (Whitney; Moore et. al.). Federal housing regulations instituted between the 1930s and 1960s unfairly labeled BIPOC neighborhoods too risky for investment because of what the Federal Housing Association's Underwriter's Manual (1935) called "lower class occupancy and inharmonious racial groups." Their neighborhoods were literally "redlined," shown in this 1935 map as red areas, given "grades" for livability, and rated hazardous. While racially excluded laws are now illegal, their aftermath continues to perpetuate housing and environmental inequities.
Find your city at the Mapping Inequalities Project and how redlining impacted it.
Disinvestment
BIPOC neighborhoods have also been historically disinvested by government and businesses, resulting in blight and making them vulnerable to infrastructure "improvements" like highways that cut them off from city centers.
Further, racist laws enabled banks to systematically deny access to loans for BIPOCs to buy homes or make improvements in their neighborhoods. Visible and invisible barriers limit access to basic needs like supermarkets and public transit lines.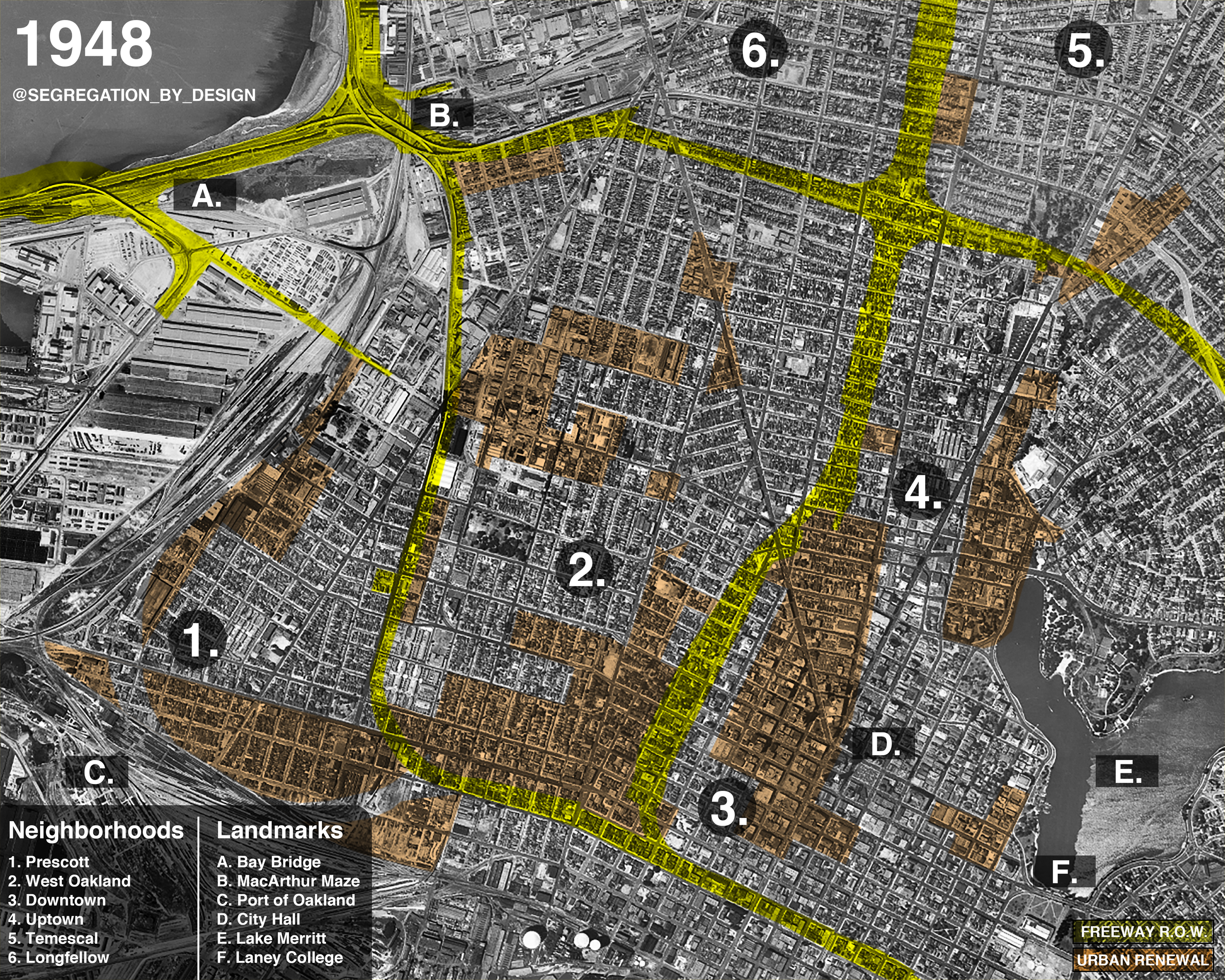 Once a vibrant African American neighborhood, West Oakland, located at #2 on the map residents were cut off from the main city and completely encircled by freeways, indicated in yellow lines (source: Segregation by Design).
Urban Renewal and Gentrification
Redevelopment projects in BIPOC neighborhoods would also drive up the cost of housing and force long-term residents out.
Structures of Division
Urban renewal was about Black removal
- Rev. Amos Brown
Reverend Dr. Amos Brown, San Francisco
The Reverend Dr. Amos Brown is senior pastor at San Francisco's storied Third Baptist Church. Established in 1852, Third Baptist is the oldest African American church in the United States. In this video, Rev. Brown discusses African American history in San Francisco and nationally, and how faith-based involvement can overcome ongoing barriers put up by white privilege.
Resources
Read the full transcript
Visit Third Baptist's website
Follow Third Baptist's Livestream
We're asking for justice from an unjust system
-LaDonna Williams
LaDonna Williams, Vallejo
LaDonna Williams is the Programs Director of All Positives Possible, a grassroots community-based organization working to obtain environmental justice for historically disadvantaged and long term highest risk exposure populations. In this video, Ms. Williams discusses her lived experiences on land polluted by industry and health impacts upon her family and neighbors.
Resources
Read the full transcript
Learn more about All Positives Possible
It's...important to...know...and understand the history to give a better perspective of why things are the way they are...
-Doug Harris
Doug Harris, Berkeley
Doug Harris is a media producer and prolific filmmaker based in Berkeley with deep ties to Richmond. His work chronicles and preserves untold histories of pioneering African Americans. In this video, Mr. Harris not only describes his path towards filmmaking, but the racist social and political catalysts in local history that continue to impact Black and brown communities.
Resources
Read the full transcript
Explore Doug's online exhibit, An Exploration of Our History: The African American Experience in North Richmond