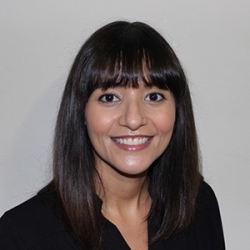 Lissette M. Jiménez
( She/Her/Hers )
Assistant Professor
Faculty Curator of the Ancient Mediterranean, Global Museum
Email: lmj@sfsu.edu
Location: Humanities Building 549
Dr. Lissette Jiménez is Assistant Professor, and serves as Undergraduate Coordinator in Museum Studies and Faculty Curator of the Ancient Mediterranean for the Global Museum. Dr. Jiménez earned her Ph.D. from the University of California, Berkeley, in Near Eastern Studies, with an emphasis in Egyptian Art and Archaeology. She teaches a range of courses in the Museum Studies Minor, as well as courses in the graduate M.A. program, including museum education and the history and organization of museums.
Dr. Jiménez was Associate Curator at the Badè Museum of Biblical Archaeology at the Pacific School of Religion in Berkeley, where she also served as Interim Director, and worked for several years to curate exhibits and to care for the museum's collections from the ancient Near East. Dr. Jiménez has conducted archaeological fieldwork at numerous sites in Egypt and Greece and has served as Assistant Registrar and Museum Supervisor for excavations there. Dr. Jiménez is currently the Associate Director of Museum Archives and Exhibits for the Abydos Temple Paper Archive (ATPA) project in Egypt. She is also the Director of the Abydos Archive Conservation Field School at ATPA, a collaborative project between the Egyptian Ministry of Antiquities, UC Berkeley, and Egyptian colleagues that provides hands-on conservation training to Egyptian museum staff and inspectors.
Dr. Jiménez's research examines the history of the Global Museum's Ancient Egyptian collection (acquired by Adolph Sutro) at SF State, to place it within the broader historical context of Western colonial collecting in the 19th century, through museum and library archival projects. Dr. Jiménez has published and presented numerous invited lectures, including on her main area of research: the visually impressive funerary shrouds from ancient Egypt, which are housed today in museum collections around the world. Her current book project explores how funerary shrouds should be contextualized within the ancient Egyptian context in which they were created and used, the colonial context in which they were removed from Egypt, and the modern context in which they are displayed in museums for public viewing. Ancient Egyptian funerary shrouds from Roman Egypt and their contextualization provide an entry point for discussions of identity construction, cultural exchange, materiality and agency, perception, racial bias, and context-based display.
Websites: