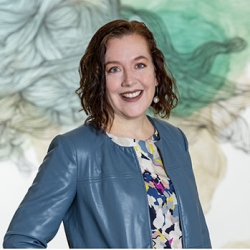 Karen Kienzle
Faculty Lecturer
Email: kkienzle@sfsu.edu
Karen Kienzle holds degrees in the History of Art from the University of California at Berkeley (B.A.) in Museum Studies from San Francisco State University (M.A.). She teaches Museum Audiences, Visitors and Communities (M S 870) and Fundraising in Museums (M S 860).
In her current position as director of the Palo Alto Art Center, Kienzle oversees a vibrant organization that contributes arts programming to the community through exhibitions, public programs, educational events, and art classes for adults and children. She manages the Art Center staff, administers the budget, oversees marketing and outreach and interfaces with our supporting Palo Alto Art Center Foundation (a private nonprofit that supports the center through fundraising and advocacy). Kienzle looks forward to continuing the Palo Alto Art Center's tradition of excellence in all aspects of its programming. Contributing her experience in and passion for audience development, community outreach, collaboration, and marketing, Kienzle plans to expand the Art Center's impact in the community.
Prior to her appointment at the Palo Alto Art Center, Kienzle served as assistant director for exhibitions, education and community outreach at the de Saisset Museum at Santa Clara University. In that capacity, she managed the exhibition program for the museum (six to twelve temporary exhibitions per year). During her seven-year tenure, she established an excellent record of creating and scheduling scholarly, thought-provoking and interdisciplinary — but also accessible and compelling — exhibitions. In generating her own solo and group exhibitions, as well as coordinating packaged and permanent collection exhibitions, her approach to programming reflects her commitment to diversity in the context of ethnicity, gender, age and media.
Kienzle worked as assistant curator and curatorial assistant at the San Jose Museum of Art. Kienzle has held curatorial intern positions at the Solomon R. Guggenheim Museum, Oakland Museum of California and Yerba Buena Center for the Arts. She is also a graduate of the Getty Leadership Institute and a recipient of the Palo Alto Chamber of Commerce Athena Award.
Websites: