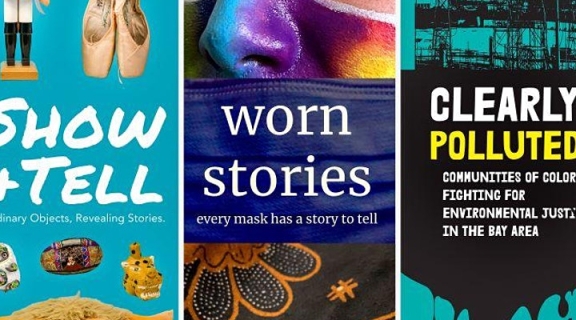 Global Museum Spring Open House Day
Friday, April 22
Event Time
01:00 p.m. - 03:00 p.m.
Location
Fine Arts Building Room 203
Contact Email
globalmuseum@sfsu.edu
Overview
Want to learn more about working in museums and Museum Studies at SF State? Visit the Global Museum's Spring Open House Day to see student and community curated exhibit ideas we're trying out while we prepare to reopen fully in Fall, 2022! Refreshments provided by the Museum Studies Student Association, thanks to funding from Associated Students at SF State. Free admission, advance RSVP required.
On view:
Show and Tell features a collection of treasured objects from and produced by student storytellers from Fran Osborne's Museum Studies 730 Exhibit Development class
Worn Stories displays a collection of face masks and explores each of their stories, curated by M.A. Candidate, Lindsey Hanson
Clearly Polluted is a forthcoming exhibition investigating environmental racism in the San Francisco Bay Area. Help us test some of the activities planned for the Fall 2022 exhibit.
The Global Museum will be open on Wednesdays and Thursdays from April 20 to May 11, 2022. RSVP required.
Visit this link to register for another date.
The Global Museum will be requiring proof of full COVID-19 vaccination for all visitors ages 12 years and older and will accept the following forms of verification:
An original, a copy, or a picture of your CDC vaccination card
Documentation from a healthcare provider
Digital COVID-19 vaccine record issued by the State of California
Masks will be required at all times for those over 2 years old. Reduced capacity to encourage physical distancing.
San Francisco State University welcomes persons with disabilities and will provide reasonable accommodations upon request. If you would like reasonable accommodations for this event, please contact lcabox@sfsu.edu as soon as possible so your request may be reviewed.  Please contact us at least one week in advance for priority accommodation.