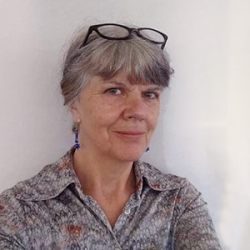 Fran Osborne
( She/Her/Hers )
Faculty Lecturer
Email: hfo@mail.sfsu.edu
Fran Osborne is a freelance designer and museum consultant from the UK. She has a B.A. in Typography & Graphic Communication from Reading University and an M.A. in Museum Studies from San Francisco State University. Fran teaches courses in curatorship (M S 720) and exhibition development (M S 730).
The main focus of her work is accessibility for people with disabilities. Recent clients include the Global Museum, San Mateo and San Francisco Public Libraries, the Marin Center for Independent Living, the San Francisco Art Institute and SOMArts in San Francisco. From 2013-2015 she worked with the Paul K. Longmore Institute on Disability at San Francisco State to create the innovative multi-media exhibition, Patient No More.
Fran has completed curatorial residencies at the Santa Fe Art Institute, the Yerba Buena Center for the Arts and SOMArts, and presented on the design of accessible exhibitions at the Inclusive Museum Conference, Disability as Spectacle conference at the University of California Los Angeles, and to students at San Diego State University and the Santa Fe School of Art and Design.
In the UK, she was a visiting tutor at the Chelsea College of Art in London and museum clients included the Shaw House Museum, the National Bank of Dubai, and the Tarbat Discovery Centre in Scotland.
Websites: