How is climate change affecting global Indigenous communities?
Recent environmental changes brought on by climate change affect Indigenous people in a unique way, especially because of their relationships with the land, ocean, and natural resources.
Organized into four themes—connections to the ocean, relationships with wildlife, the power of plants, and adapting tradition—Climate Stories reveals a few of the world's many stories of community response and adaptation.
While there are many environmental issues affecting the world such as overpopulation, overfishing, and overconsumption, this exhibition focuses on the unique impacts of climate change.
Climate Stories draws from global examples from Hawaii, Alaska, Papua New Guinea, Australia, the Amazon rainforest in Brazil, and more. The final section "Action Now" brings the issue home to the SF State campus and the Bay Area, highlighting faculty, staff, and student involvement in climate change research and projects, from the arts to the sciences.
Even amidst the COVID-19 crisis, a majority of Americans see climate change as a clear and present threat to the health of people in their community. Join us to explore the climate conversation.
This virtual exhibition is adapted from Climate Stories, which opened in-person at the Global Museum in 2019. Click through the carousel to view highlights, or visit the full exhibition PDF to explore the topic in more detail. In addition, check out our "deep dives," student-developed interdisciplinary lessons designed to complement the exhibit. We will be continually adding more, so check back in the future to see what's new!

Highlights of Climate Stories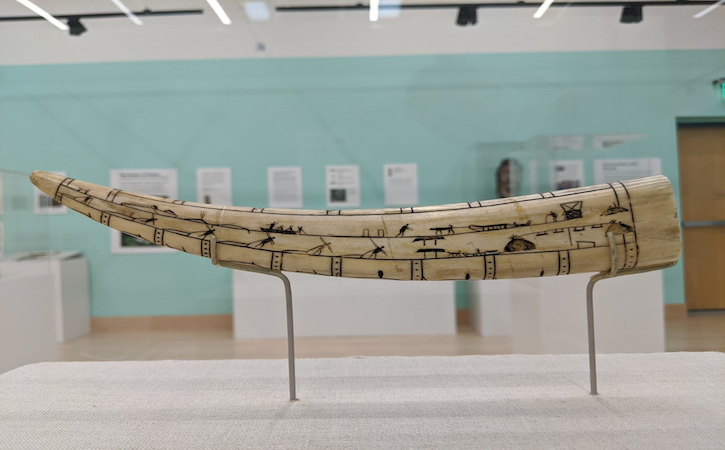 Double-sided painted slab
Aboriginal Australian (Yolngu community)
Wood, ochre, mineral paint
Early to mid-20th century
Global Museum collection
Aboriginal Australian art conveys knowledge of land and cultural traditions. The natural materials and snake imagery symbolize an ancient connection to the land, which is starting to change due to drought, wildfires and rising sea levels.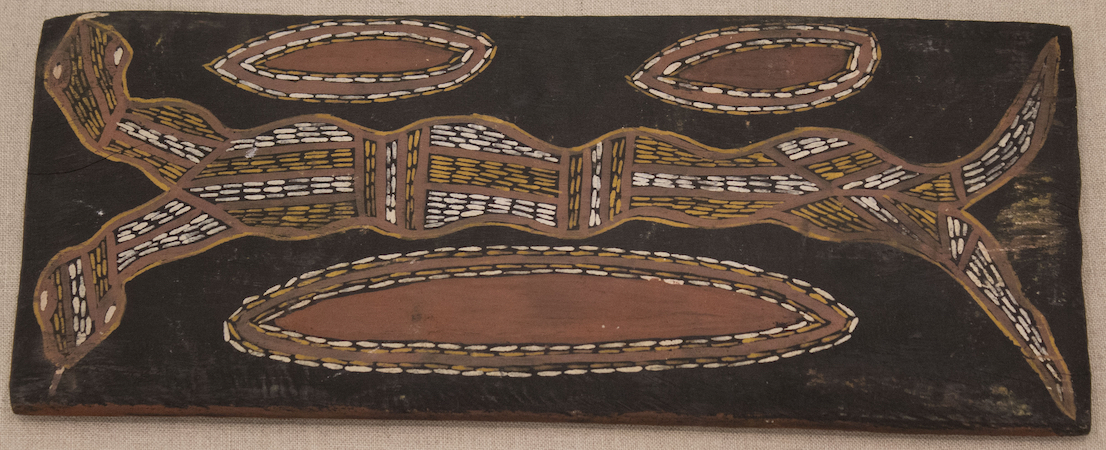 Carved walrus tusk depicting hunting scene
Native Alaskan
Walrus tusk (ivory)
Early 20th century
Collection of the California Academy of Sciences
Across the globe, Indigenous people are now using new technologies for hunting and subsistence strategies. Native Alaskan methods have tried new methods, including flying drones over ancestral hunting grounds, to track sea ice and walrus populations.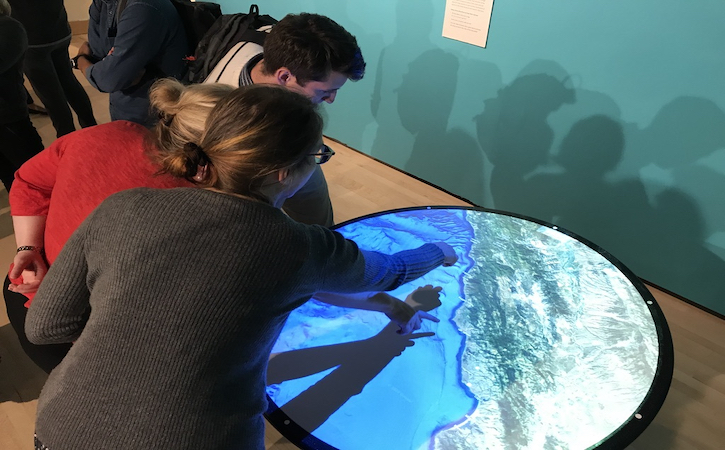 Image courtesy of the Global Museum
A major new study from Yale University reveals that one of the most important things we can do about climate change is to talk about it with friends and family, which leads to greater understanding and concern about the issue.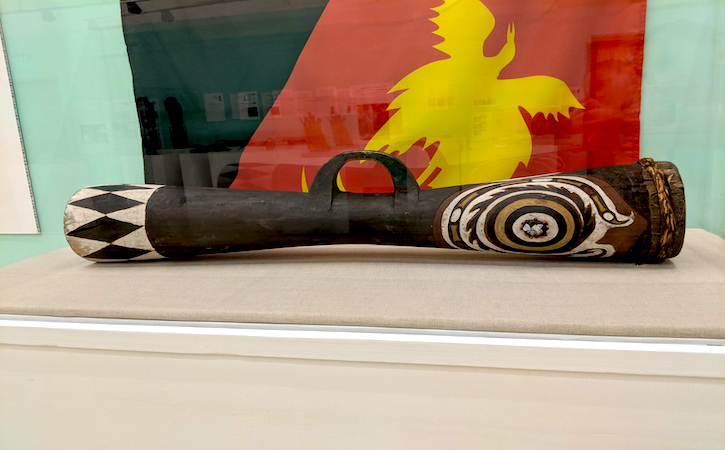 Kundu drum
Gogodala community
Wood, snakeskin, pigment
Date unknown
Global Museum collection
In 2016, Papua New Guinea became the first country to formally submit a national climate action plan under the Paris Accord. This traditional kundu drum is featured on Papua New Guinea's national emblem (click through the extended exhibition to view an image), embodying connections to nature.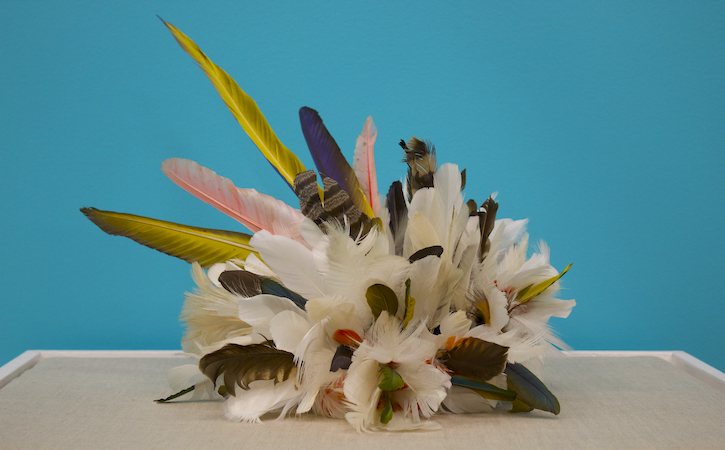 Feather Crown
Karajá (Iny) community, northeastern Brazil
Bird feathers, twine, wood
Mid-1900s
Global Museum collection
This headdress is made of materials that were all gathered in the Amazon Rainforest. Indigenous communities in the Amazon Basin have long relied on plants for medicinal purposes, many of which are also used in modern pharmaceuticals. Some examples include medicines derived from Cinchona (quinine tree bark), Jaborandi, and Sangre de Grado, which are used to treat malaria, eye pressure, diarrhea, and other ailments.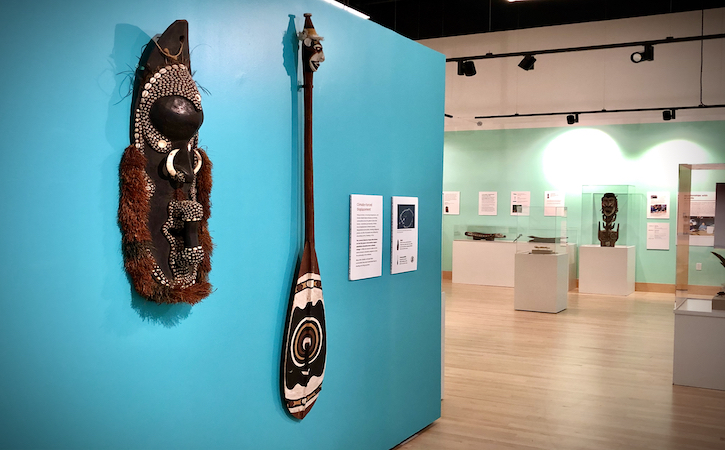 Image of entrance to the Climate Stories exhibition, courtesy of the Global Museum
Rising sea levels, increasing temperatures, and climate-related natural disasters are forcing communities across the globe to leave their homes—sometimes permanently. The Carteret Islands in Papua New Guinea are the first place in the world to require population relocations due to climate change. Many other islander and Sepik River communities have also moved inland due to rising sea levels. This Mwai mask decorated with cowrie shells and Gogodala canoe paddle embody relationships with waterways.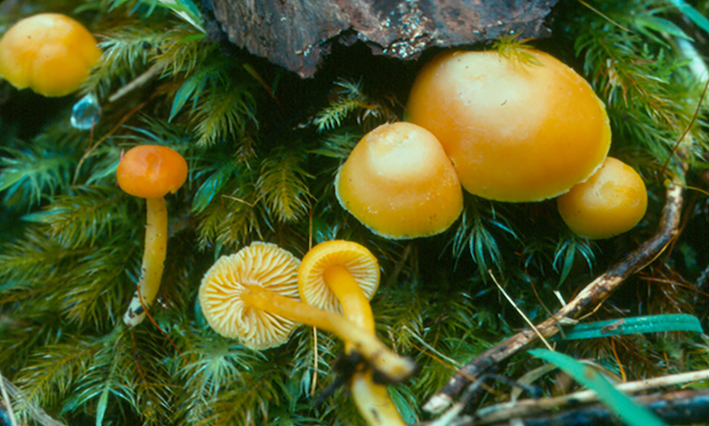 Image of 'Hygrocybe lamalama' courtesy of the Dennis Desjardin, Professor of Biology and Director of the Harry D. Thiers Herbarium at SF State.
Plants and fungi can serve as indicators of climate change. Even subtle differences in weather patterns can lead to a decrease in biodiversity, or the variety of life at all of its levels, from genes to ecosystems. The Hawaiian name for this mushroom is lama lama, or "to glow as if touched by the sun." They grow in native wet forests in the mountainous regions of the Hawaiian Islands.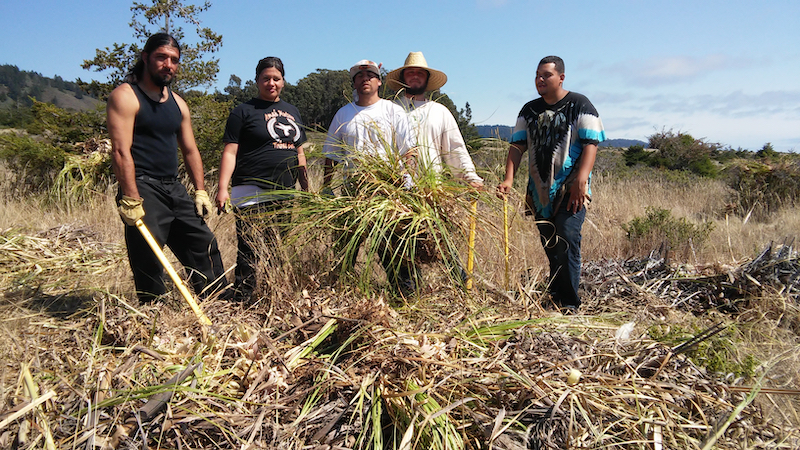 Image courtesy of the Amah Mutsun Land Trust
Across the world, Indigenous peoples have lived in their ancestral homelands for thousands of years, forming relationships with plant and animal life, water, the seasons, and weather. This knowledge is known as TEK, or Traditional Ecological Knowledge. TEK can help us think about how we address climate change. In the Bay Area, the Amah Mutsun Tribal Band partners with numerous educational institutions, government agencies, land trusts, and conservation organizations on TEK-based ecological restoration projects in the Santa Cruz Mountains.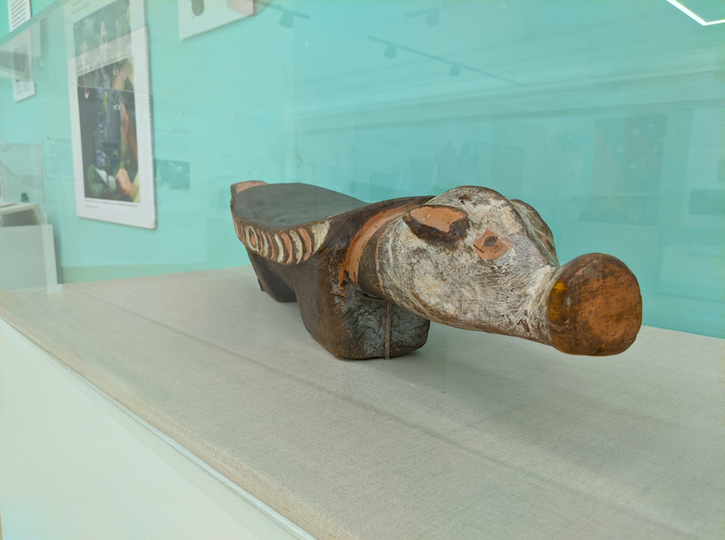 Carved Wooden Pig
Middle Sepik River, Papua New Guinea
Wood, pigment
Date unknown
Global Museum collection
Indigenous communities across the globe rely on wildlife for food and creating material culture (the objects people use to define their culture). Culturally significant species in Papua New Guinea include pigs and boars, along with animals like crocodiles and cassowary birds. Climate change has offset the balance between humans and important wildlife species due to habitat loss and changes in natural environments.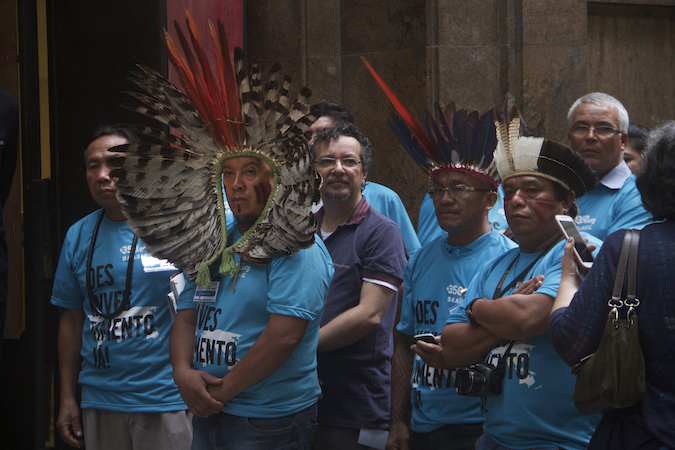 Image by Juliana Colussil, Creative Commons
Indigenous communities are faced with changes to longstanding cultural traditions. Community members today often use cultural items such as headdresses for protests and political action in addition to traditional use. In this photograph Indigenous people, fisherman, and climate activists protest against an oil and gas auction in Rio de Janeiro, Brazil in 2017.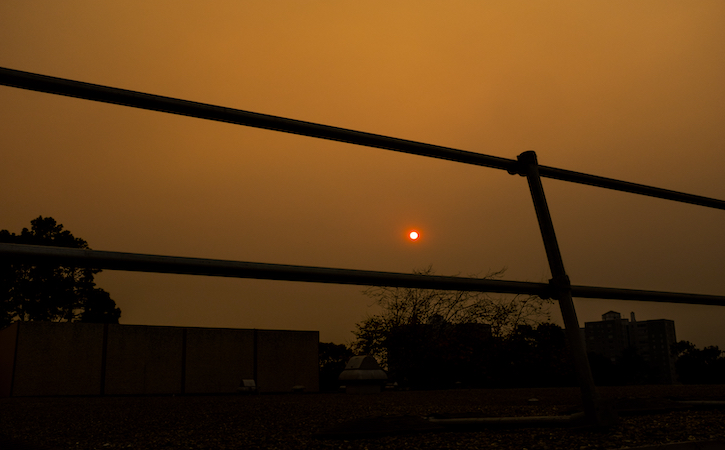 Image of 2018 Camp Fire smoke at SF State, courtesy of Sreang Hok
Has climate change affected your friends or family? Natural disasters related to climate change such as hurricanes and fires have become more common. Many architects are now finding ways to design and build in a responsive way in the face of climate change, and foresters and government agencies are looking to Indigenous fire management techniques and prescribed burns to reduce fuel buildup.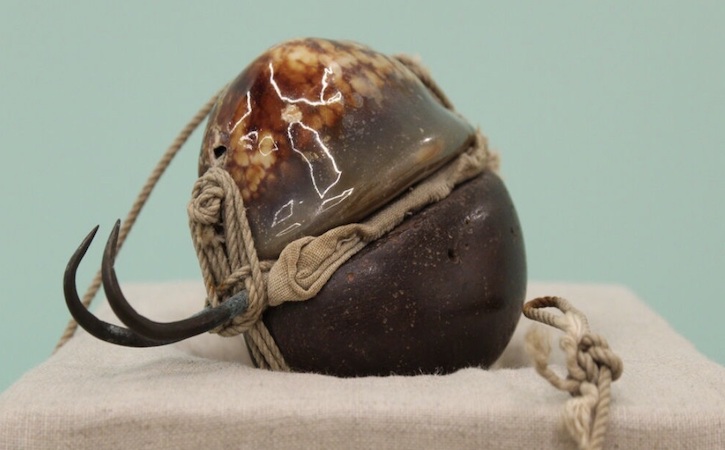 Octopus Lure
Native Hawaiian
Cowrie shell, stone, metal, string
Late 1800s
Collection of the California Academy of Sciences
Climate change impacts not only ancestral lands, but also essential resources. Native Hawaiian ancestral knowledge stems from the relationship between humans and 'āina, meaning "that which nourishes us." This octopus lure, along with other traditional items, is not only a tool but also a symbol of cultural identity.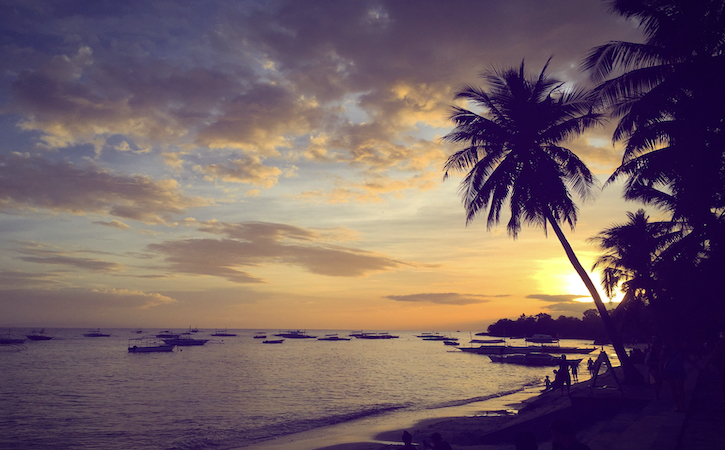 Image of Alona Beach on Panglao Island in the Philippines, courtesy of the Global Museum
Many communities have strong ties with the waters that surround them and depend on local marine resources for survival. Some are taking action and are building new infrastructure, planning for relocation, and advocating for policy change through international networks. For example, new Marine Protected Areas (MPAs) have been established in the Philippines in the past few years, which include community-led monitoring programs.
Deep Dives