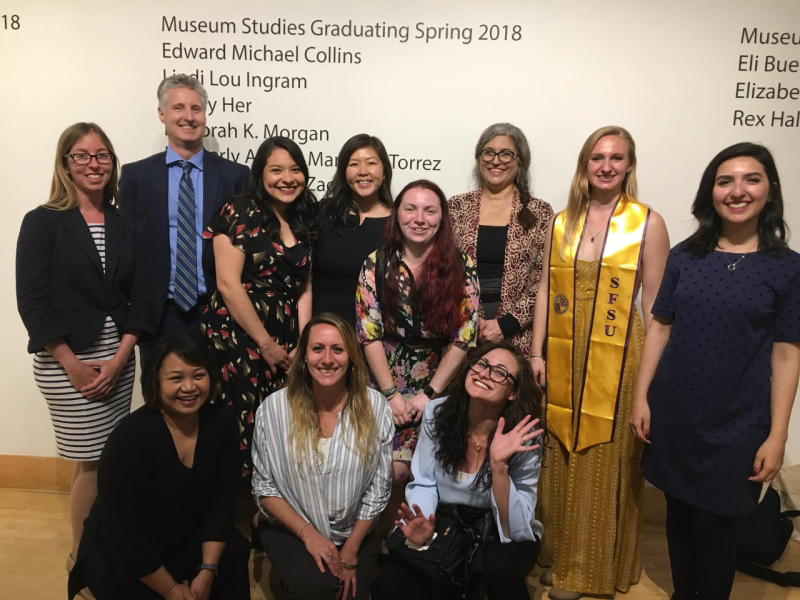 L-R top row: MS Faculty/Global Museum staff Paige Bardolph and Edward M. Luby with M.A. Graduates Eliana Zacarias,
Nancy Her, Sara Godin, Deborah Morgan, Karissa Hurzeler, and Fernanda Valenzuela Hurtado; 
L-R bottom row MS Faculty/Global Museum staff Christine Fogarty and Gina Caprari with M.A. Graduate Lindy Lou Ingram. 
Anh Bui
Art And Society: How Vietnamese Independent Arts Organizations Serve and Impact Communities
Edward Collins
Maintaining History: Museums Facilities Management at Historic Sites
Abigail Decker
Accessing Museums: The Role of Accessibility in Museum Exhibition Development
Eryn Espiritu
Branding for Small and Mid-Size Museums: Relationships, Messaging, and Identity
Sara Godin
The Social Museum: Youtube and Collections Management
Nancy Her
The Preservation of Hmong Intangible Cultural Heritage in American Museums
Karissa Hurzeler
Evaluating the Management of Ancient Coin Collections in American Museums
Lindi Lou Ingram
The Planning and Management of Museum Cultural Demonstrations
Jack Moorhead
Exhibiting the Artist: Exhibition Development and Design in Artist Studio Museums
Deborah Morgan
Museums Decolonizing with Holistic Intentionality: Curatorial and Descendant-Community
Jordan Pellew-Harvey
How Are Collections Management Units Involved in Digitization Across The U.S.?
Michelle Sohnlein
Mending Societal Rifts: Argentine Museums, Spaces of Memory and Exhibiting Difficult Histories
Adriana Schweikert
Partnerships and Collaboration for Open Access to Digital Collections
Kimberly Torrez
Risky Collections: The Care And Management Of Hazardous Objects
Maria Fernanda Valenzuela Hurtado
Opening-Up Storage: Collections Access As Public Programming; Recipient of the FONCA Scholarship Program of the Mexican National Fund for Culture and Arts, 2015-2018; Department Honoree, 2018 Distinguished Graduate Student Award; currently interning at the Getty Museum. Read more about Fernanda at this article.
Kelin Verrette
Expanding Contexts: Partnerships Between Indigenous Communities and Museums
Eliana Zacarias
Museums and Immigrant Communities: Effective Public Programming