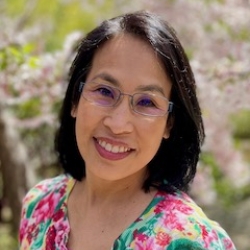 Ruby Ming
( She/Her/Hers )
Faculty Lecturer
Email: rming@mail.sfsu.edu
Ruby Ming aims to provoke unconventional connections to art across cultures, time, and technology. She has worked on a wide range of projects for a variety of nonprofits and museums—she produced a two-day teacher seminar focused on modern China for 1990 Institute; created online art projects for 3rd to 8th graders for Eastside Community Arts; and led tours for English language learners at the National Portrait Gallery in Washington, DC. A former docent at the Asian Art Museum, she designed private, public, and school group tours that encouraged deep looking, personal interpretation, and relevance to the present. As the Development Manager at the San Jose Museum of Quilts and Textiles (SJMQT), she managed grants and fundraising, and contributed to program development and strategic planning.
Involved in visual arts and culture education for over 20 years, Ming provides engaging professional development workshops for teachers about arts integration for the National Art Education Association, the California Art Education Association, and the Santa Clara County Office of Education (SCCOE). In partnership with UC Berkeley History-Social Science Project, she launched a week-long teacher institute for SJMQT focused on integrating textile arts in the humanities in summer 2022. She is a popular speaker, presenting richly illustrated talks around the Bay Area highlighting cultural exchange and transmission. 
Ming received her B.A. in Fine Arts from Brown University and her M.A. in Museum Studies, with an emphasis in Programming, from SFSU. She serves on the board of Cultural Connections and is a member of SCCOE's Artspiration Leadership Council. 
Websites: