Public programs and events, including family-oriented and scholarly programs, are offered throughout the year to accompany our exhibitions. Admission is free and all visitors are welcome!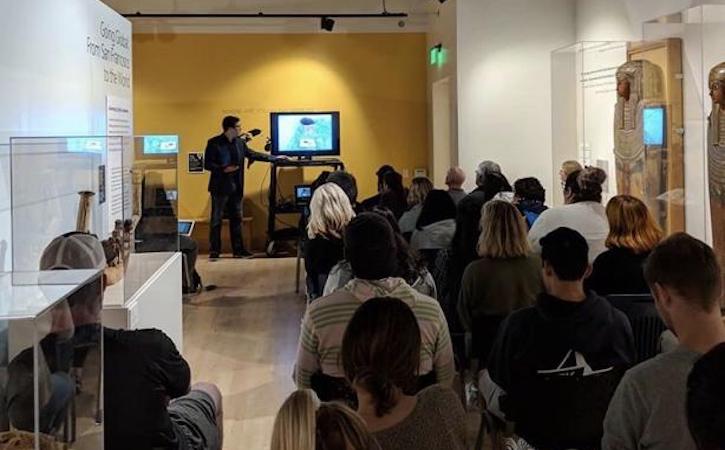 Upcoming Events
Please note: This event is canceled to help limit the potential exposure of novel coronavirus (COVID-19). For updated information on SF State's response to COVID-19, visit the novel coronavirus information page.
[Canceled] Gator Days Open House and Family Day
The SF State campus comes alive for Gator Days, where departments and centers across campus open their doors. Stop by the Global Museum for family programs, hands-on activities, and light refreshments, and to learn about the other centers for research and creative activity on campus. This event will be happening on Saturday, March 14 from 11am-4pm in the Global Museum. All are welcome!
[Canceled] Climate Stories Lecture Series
Join us on the following dates for our Spring programming themed around our Climate Stories exhibit! All lectures will be held in the Global Museum and are free and open to all visitors.

Wednesday, March 18 from 3-4pm

William White, Assistant Professor of Anthropology at UC Berkeley, will speak about his archaeological research on the island of St. Croix in the US Virgin Islands, discussing coral reefs, sustainability, and historical ecology. This lecture is co-sponsored with the SF State Department of Anthropology.

Thursday, April 16 from 12:30-1:30pm

Susan MacWhorter, Science Educator at the California Academy of Sciences, will discuss her work as a climate interpreter and provide strategies for how museums can communicate about climate change. MacWhorter is certified by the National Network for Ocean and Climate Change Interpretation.

Wednesday, May 13 from 3-4pm

Kent Lightfoot, Professor of Anthropology at UC Berkeley and Curator of North American Archaeology at the Phoebe A. Hearst Museum of Anthropology, will discuss Indigenous fire management practices and the relevancy of archaeology in re-thinking the stewardship of public lands in California. This lecture is co-sponsored with the SF State Department of Anthropology.